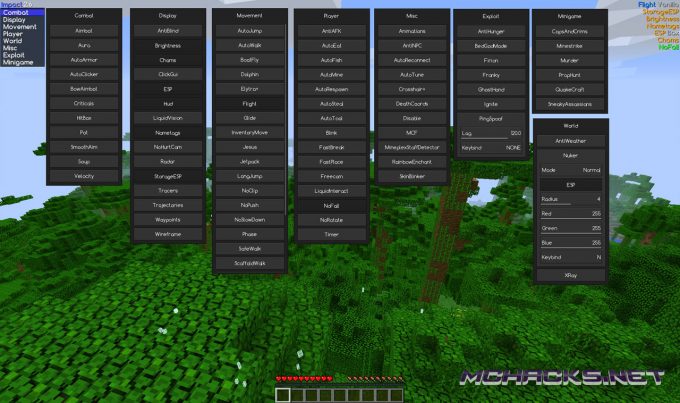 Impact is an advanced Minecraft Utility Mod aimed towards user friendliness.
Here, you will be able to submit issues that prevent the client from performing as expected.
AntiAFK
AntiBlind
AntiFire
AntiKnockback
AntiPotion
AntiSpam
AntiWaterPush
AutoArmor
AutoBuild
AutoDrop
AutoEat
AutoFarm
AutoFish
AutoLeave
AutoMine
AutoRespawn
AutoSign
AutoSoup
AutoSplashPot
AutoSprint
AutoSteal
AutoSwim
AutoSwitch
AutoTool
AutoWalk
Blink
BlockHit
BoatFly
Build
BunnyHop
CameraNoClip
CaveFinder
ClickAura
ClickGUI
CMD-Block
CrashChest
CrashTag
Criticals
Derp
Dolphin
ESP
Excavator
ExtraElytra
FancyChat
FastPlace
FightBot
Flight
Follow
ForcePush
Freecam
Fullbright
GhostHand
Glide
Headless
HeadRoll
HealthTags
HighJump
InstantBunker
InvWalk
Jesus
Jetpack
Killaura
KillPotion
Liquids
LogSpammer
MassTPA
NameProtect
NameTags
Navigator
NoSlowdown
NoWeather
NoWeb
Nuker
NukerLegit
Overlay
Parkour
Phase
PlayerFinder
PotionSaver
Protect
Radar
RainbowUI
Reach
Regen
SafeWalk
Search
Sneak
Spammer
SpeedHack
SpeedNuker
Spider
Step
Throw
Timer
Tired
Trajectories
TriggerBot
TrueSight
Tunneller
X-Ray
Download
You can download Impact by visiting the Impact Website.
Trebuie să fii autentificat sau înregistrat pentru a vedea acest link.
Help and Support
If you need help using Impact, you should instead ask for it on the discord server. Use the #help channel so that you don't clutter up #general with support questions. Also make sure to check #announcements, pinned messages and use the search tool to see if your question has already been answered.
Bugs
Please report any bugs you find here. Try to be as descriptive as possible and make sure to check if the bug has already been reported before reporting it youself. Please only report one bug per issue - if you have encountered multiple issues, report multiple bugs as seperate issues.
Videos:
Impact Client for Minecraft gives you all the fancy stuff you come across Youtube Minecraft Hackers.